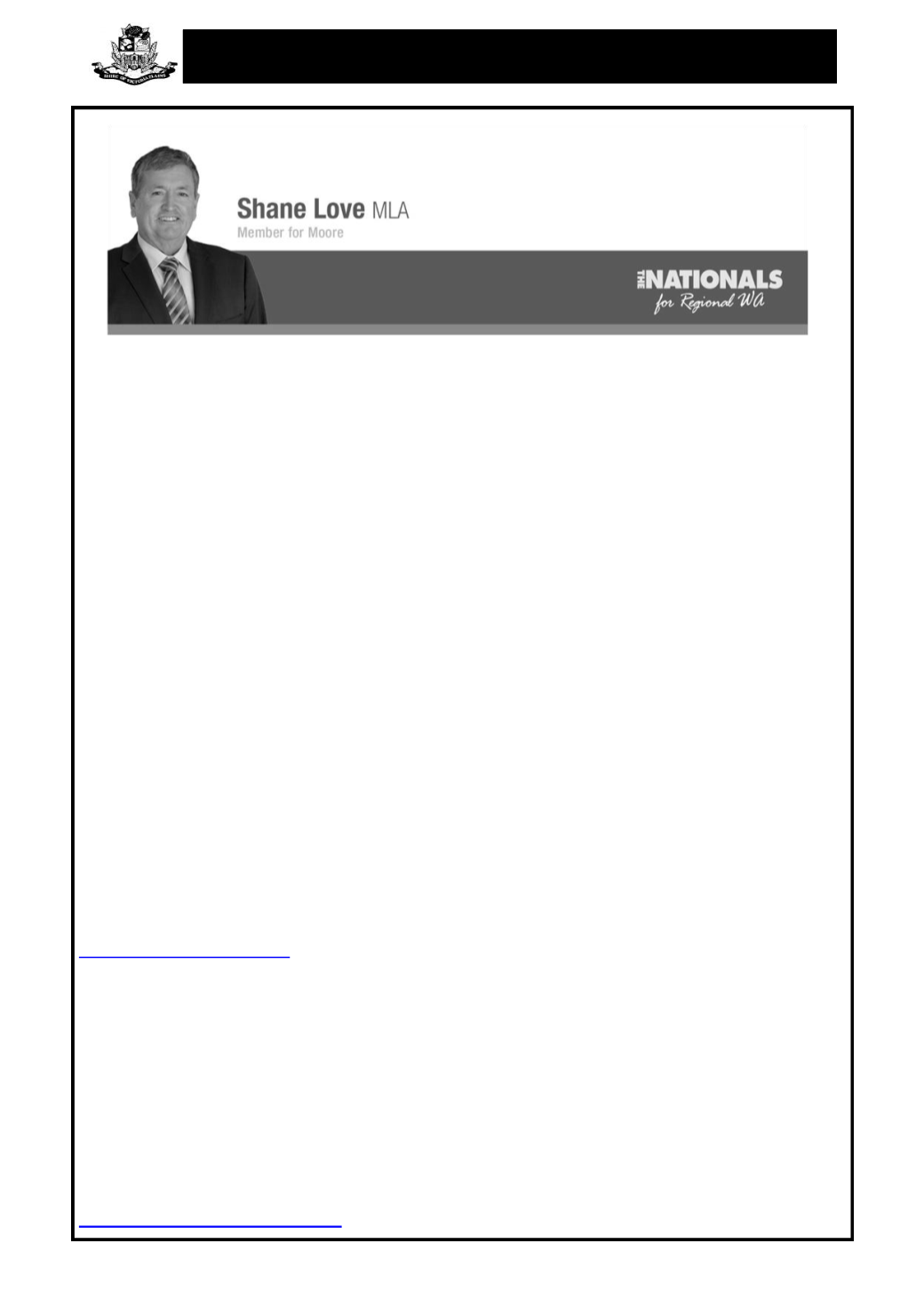 Shire of Victoria Plains
10
Full Mobile Black Spot Programme schedule announced
Details of the locations and time-frames of the 128 new and upgraded mobile phone towers to be
delivered across regional WA though the Mobile Black Spot Programme have been announced.
The $385 million program is a joint initiative involving the
Royalties for Regions
funded Regional
Telecommunications Project and the Commonwealth Government.
Member for Moore Shane Love MLA said The Nationals WA had unveiled the location of the first 10
mobile phone towers under the Programme last month, and welcomed the full schedule's release
today.
"Information on all 128 phone towers being built in regional WA is now online and easily accessible,
so local residents can clearly see when and where mobile coverage will be improved in their area,"
Mr Love said.
"By the end of July 2016, the first 10 sites in WA will be constructed, with many more to follow over
the next three years."
Residents of Moore can expect eight new or upgraded towers in the 2016-17 financial year including:
Carnamah East, Horrocks, Kalbarri Loop, Latham, Meanarra Hill, Yandanooka, Bindoon West and
Seabird.
Among the 10 towers scheduled for completion in 2017-18 are Bunjil, Eganu, Koolanooka, Maya
North, Womarden, Merkanooka, Grey, Mimegarra, Pithara and Wannamal East with a further three
towers scheduled for construction during 2018-19 at Julimar, Mogumber and Yallabathara.
Mr Love said he understood the anticipation around the build and suggested members of the public
track progress using the Mobile Black Spot Site Locator which includes a map and can be found at:
www.telstra.com/blackspots
"There are many factors affecting when a site can be completed, including relevant Federal, State
and Local government approvals, the scale and complexity of construction required, and whether the
structure is new or existing," Mr Love said.
Minister for Regional Development, Terry Redman MLA, announced the full schedule for the jointly
funded Commonwealth-
Royalties for Regions –
Mobile Black Spot Programme this week.
"Royalties for Regions
is playing a significant role in transforming regional WA and has so far
contributed $85 million to improving mobile communications across regional WA since 2012,
supporting the rollout of 266 new phone towers," Mr Redman added.
For media enquiries please contact Shane Love MLA on 9927 2333 or email
mooreelectorate@mp.wa.gov.au