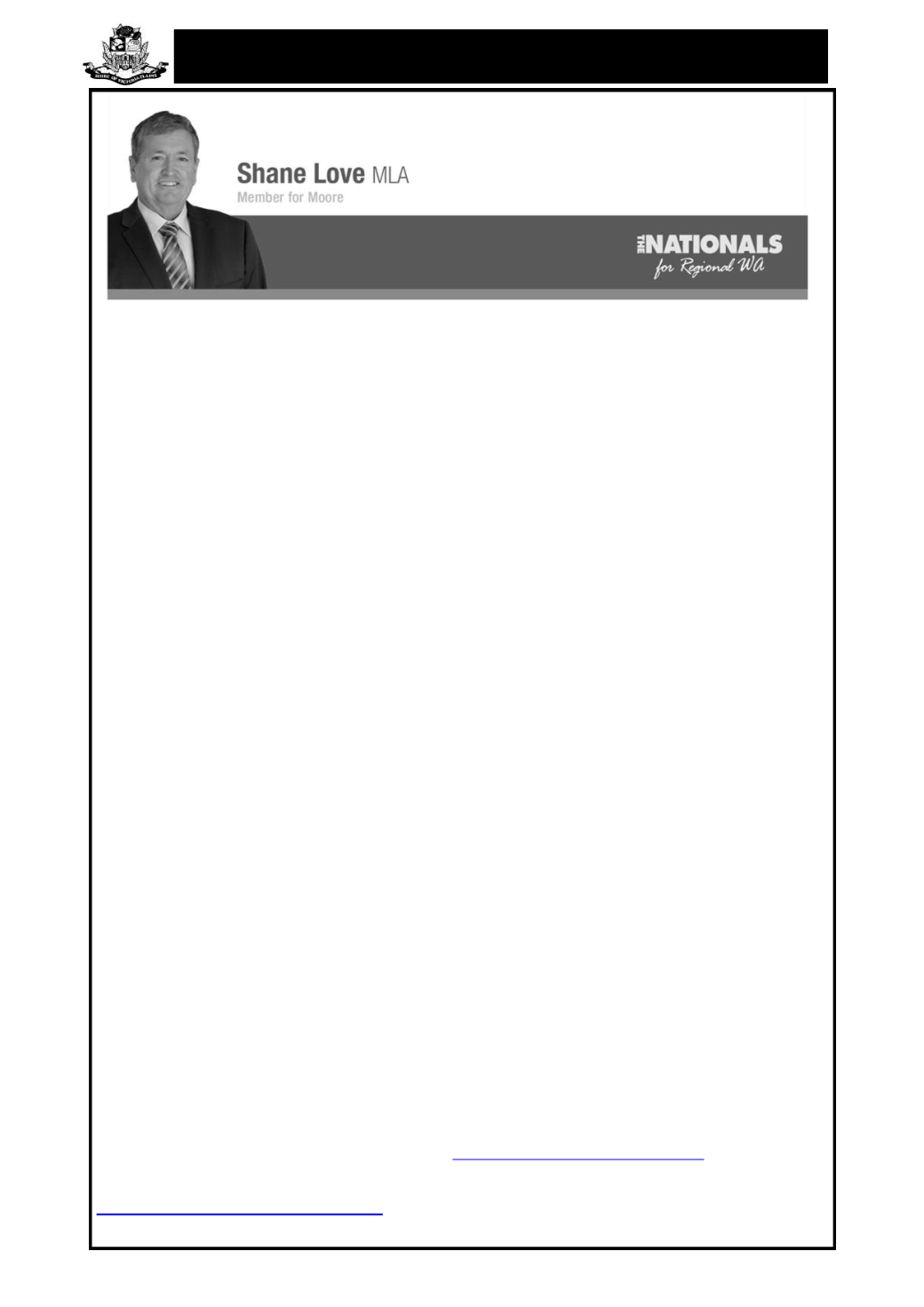 Shire of Victoria Plains
9
$2,000 Emergency Services Volunteers Fuel Card arriving this week
More than 90 regional volunteer emergency services organisations in the Electorate of
Moore will benefit from a $2,000 fuel card thanks to The Nationals WA and
Royalties for
Regions.
Member for Moore Shane Love MLA told local organisations who had put in an
application to check the mail in coming days.
"The Emergency Services Volunteers Fuel Card (ESVFC) will provide $2,000 per annum
to a total of 807 regional brigades, groups and units across regional WA," Mr Love said.
"This includes regional fire brigades, State Emergency Services, Volunteer Marine
Rescue Services and St John Ambulance volunteers."
The $7.9 million initiative is funded by
Royalties for Regions
and was a major election
commitment from The Nationals WA.
"It's a small way of saying thank you to the many emergency services volunteers who
sacrifice so much to keep our communities safe," Mr Love said.
The Department of Fire and Emergency Services application process received 807
applications for the fuel card, out of a possible 933 eligible organisations – an uptake
rate of greater than 85 per cent.
"It's a great outcome considering this is the first year the ESVFC has been made
available."
While applications for the ESVFC closed on January 10, the Department of Fire and
Emergency Services have agreed to consider late applications.
"This is welcome news, considering many organisations were busy with the South West
fires earlier this year and may have missed out on the application window," Mr Love said.
"Please contact my Dongara office on tel: 99 272333 if you would like further information
about late applications.
"The card can be used at the discretion of the brigade as a reward for volunteers who
often pay for their own travel expenses when attending emergency incidents or to
access training courses out of town."
For more information on the fuel card visit
www.dfes.wa.gov.au/fuelcards
For media enquiries please contact Shane Love MLA on 9927 2333 or email
mooreelectorate@mp.wa.gov.au